G7 Gourmet Instant Coffee
Free Sample Available!
What is gourmet instant coffee? Put simply, it's coffee that tastes as rich, full and satisfying as a brewed cup - in fact, we have plenty of customers who prefer these instants to any brewed coffee on taste alone, never mind the incredible convenience. G7 instant coffee is extracted directly from the coffee bean, which gives a better cup of coffee than conventional freeze-dried coffee crystals.
The Asian instant coffee market has dozens of fiercely competing coffees. The coffees that rise to the top are the very best, the creme de la creme of instant coffees, and we are proud to bring the top instant coffee in all of Asia here to the United States: G7 by Trung Nguyen Coffee.
3-in-1 Coffee is the most popular kind of instant, because it contains a very good creamer as well as sweetener in perfect proportion. All our instant coffees contain NO ingredients from China. G7 Original, Gu-Manh X2, and Passiona/Sugarfree contain small amounts of casein, a milk derivative, and G7 Cappuccino contains skim milk powder. If you have a milk or coconut allergy, we recommend G7 Pure Black coffee as the safest choice.
Important: 1 packet of G7 makes 6 ounces of coffee, and 1 packet of Brio makes 7-8 ounces of coffee. If you want to make a big mug, use two packets for best results.
G7 Original 3-in-1 Instant Coffee
G7 is the world's best-tasting (never bitter) gourmet instant coffee, famous throughout Southeast Asia. The 3-in-1 contains coffee, non-dairy creamer and 8 grams sugar per serving. Just add 6 oz. hot water and stir for gourmet coffee anywhere - at home, in hotels, camping, at work, etc.. Please note: The café sticks are the exact same product and serving size and style as the sachets.
G7 comes in two shapes, elegant Café Sticks (long, narrow packets) and 22- and 50-sachet bags (sachets are flat, rectangular packets). Please note: The café sticks are the exact same product as the sachets, it is just a different packaging. The export product also lists the name of the 3-in-1 as "Coffeemix", which is less confusing for international buyers. We have just received a new shipment of the G7 in bags that have the new domestic packaging, for both the 25-sachet bag and 50 sachet bag. This new container purchase has allowed us to reduce the cost per serving on these to $.29 per serving, from the previous $.31.
Contains casein, a milk derivative.
This is the first true gourmet instant coffee we have tasted. We have compared it to over 30 other popular Asian and USA brands such as Vinacafe, Coffee King, Nescafe, etc., and the G7 is far richer and has the full-bodied flavor that is absent from most instant coffee.
Trung Nguyen commissioned a state-of-the-art Italian-built facility in Buon Me Thuot to process G7 3-in-1 in 2002 and it has been the top Asian "white coffee" since. The reason is simple; it is the only instant coffee in the world that is processed from green, unroasted beans, and is powdered and roasted in the same operation. This process preserves more flavor and results in a smooth and non-bitter coffee. All other manufacturers use brewed coffee that is then freeze-dried in one fashion or another, which creates bitterness.
The G7 has its own unique taste, different from the Trung Nguyen brewed coffees, and fans of G7 will accept no substitute! Starbucks has recently introduced Via, an attempt to duplicate the dry roasted process of G7, but our public taste tests between these two products favor G7 over Via approximately 2 to 1 in favor of the rich, "unburnt" flavor of G7. This is a great cup of coffee to bring with you when traveling or when you don't want to brew. All you need is hot water and you can have gourmet coffee anywhere... in your hotel, at breakfast, when camping or on the road traveling, etc.
Many offices and shops offer this coffee as a perk to employees, especially if they don't want to maintain a brewing station. It's the ultimate in convenience.
Please note: Our non-dairy creamer ingredients are considered milk-free by the FDA, but still do contain a small amount of caseinate, a milk protein commonly used in coffee creamer. Lactose intolerant individuals should have no problem, but vegans or individuals with severe milk allergies should try the delicious G7 Pure Black instant coffee. All G7 products are independently tested for safety and purity by third-party labs in Germany and Malaysia, and its ingredients NEVER come from China.
One sachet makes a standard 6 ounce cup; use 2 sachets for mug strength.
The nutrition facts on the box are per 100 grams, not per serving. Here are the per-serving nutrition facts.
Nutrition facts per 16 gram packet:
Calories: 72 (From Fat: 26)
Total Fat: 2.4 grams
Sat. Fat: 2.3 grams
Trans Fat: 0 grams
Cholesterol: 0mg
Sodium: 44mg
Carbohydrates: 12.5g
Dietary Fiber: 0.5 grams
Sugar: 12 grams
Protein: 0g
Click for more detailed nutrition information for G7 Original, photographed directly from the package.
Click for a detailed ingredient list for G7 Original, photographed directly from the package.
Current price in our store, Len's Coffee®:
for 20 sachets (other sizes available)


G7 Gu-Manh X2: 3-in-1 Instant Coffee in Extra-Large Servings
X2 is the same formula as regular G7 (we've taste-tested and can't tell the difference), but each packet contains 25 grams of instant coffee powder instead of the usual 16 grams. As a result, each packet makes 60% more coffee, enough for a hearty 8oz cup. Use two packets to fill a big 16oz travel mug!
If you, like so many of our customers, have wished G7 made a bigger cup of coffee, then this is the answer. It's a better value, too, ounce-for-ounce, so you save money if you've been using multiple regular G7s to fill your mug.
FYI: Regular G7 makes about 5oz. X2 makes about 8oz. A mug holds ~10oz. A big travel mug, like the kind you take along in the car, is usually 16oz. So, whether you should get G7 Original or G7 X2 depends on the size of the container you normally drink out of.
Contains casein, a milk derivative.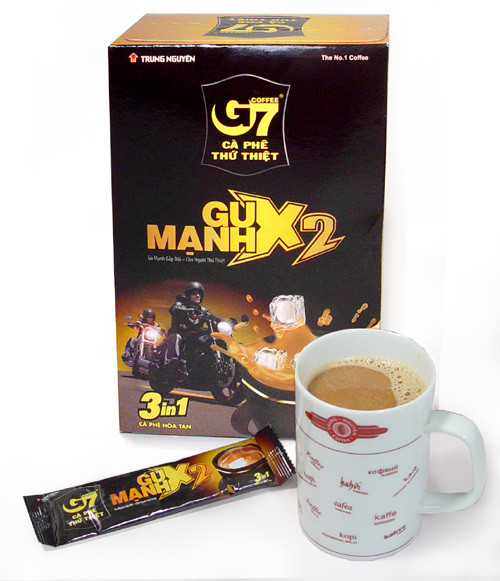 Current price in our store, Len's Coffee®:
for 12 servings


G7 Passiona/Sugarfree: Sugar-Free 3-in-1 Instant Coffee with Collagen
Trung Nguyen has translated their hugely popular, naturally low-caffeine Passiona coffee into a delicious instant coffee! It's a 3-in-1 coffee, which means it has non-dairy creamer and is sweetened with zero-calorie sweetener. The coffee has a slightly different taste from regular G7, too, partly because of the naturally low-caffeine coffee beans used.

Domestic formula (box)


Export formula (bag)


Export formula packets

Trung Nguyen envisions G7 Passiona as a healthy drink and has spared no expense in this effort. The creamer is 100% trans-fat free. The sweetener is what the Vietnamese call "diet sugar," which we in America call "sugar alcohol" or Isomalt, and is found naturally in fruit. Pure vegetable collagen, a natural protein, has been added to support skin health. We can't make any medical claims, of course, but we absolutely love the taste!
We trialed this new G7 extensively with our local taste-testers, then with our loyal customer base, and the response has been almost universally enthusiastic. Many regular G7 fans describe the Passiona G7 as "deeper," "more complex," "more aromatic," and "darker-tasting," as well as "guilt-free!"
Export versus Domestic: What's the difference?
The difference is just the packaging.
Nutrition facts per 16 gram packet:
Calories: 72 (From Fat: 26)
Total Fat: 2.9 grams
Sat. Fat: 2.7 grams
Trans Fat: 0 grams
Cholesterol: 0mg
Sodium: 60mg
Carbohydrates: 10g
Dietary Fiber: 0.5 grams
Sugar: 0 grams
Sugar alcohols: 9.5 grams - click for more info
Protein: 1g
Allergy information: Although considered non-dairy by the FDA, the creamer does contain a small amount of casein.
Not a low calorie food.
Current price in our store, Len's Coffee®:
for 14 sachets


The Instant Entertainer
A collection of our best instant coffee, cappuccino and hot chocolate mixes, perfect for anytime you (or your guests!) need a gourmet cup without the fuss of brewing. Contains 20 Original G7 3-in-1 instant coffee, 6 G7 Pure Black instant coffee, 6 G7 Cappuccino Hazelnut, and 6 G7 Cappuccino Mocha, plus a 10 packets of Indochine's premium hot chocolate mix, perfect for the cold weather. All together, this is 48 cups of instant deliciousness, at an unbeatable discount.
G7 Pure Black Instant Coffee
Finally a black G7 for those who prefer their coffee black, or simply prefer to add their own cream and/or sugar to their coffee. Also mixes in cold water!
Black instant G7 has a number of advantages: it does not contain any added calories from added creamer or sugar, it can be mixed directly into cold water for iced coffee, its packet size is very small and fits easily in a wallet, and, of course, many people just prefer black coffee.
G7 is widely regarded as a unique and superior gourmet instant coffee, due to a processing plant built by Italian coffee technology experts that uses a proprietary process to create flavorful instant coffee from unroasted, green coffee beans. The beans are roasted and powdered in one process that eliminates the usual bitterness of freeze-dried coffee common to other processes. If you have never tried G7, you have never seen how great instant coffee can taste. The Black G7, requested by consumers for years, is finally available. Its only ingredient: Coffee. Use it alone or as a base in coffee drinks or cooking.
If you do like your coffee sweet, but are watching your sugar intake, then the Black G7 is ideal because you can sweeten it with your non-nuritive sweetener of choice (Splenda, Nutrasweet, etc.). You can also add your own cream, milk, or non-dairy creamer if you like. This black instant is highly suitable for allergy sufferers, because they can be certain that there is nothing in the packet but pure black instant coffee.
An exciting discovery for us was that the Black G7 mixes easily in cold water. During the hot summer months, iced coffee is particularly pleasurable, but regular G7 must always be mixed in hot water first before being poured over ice. This can be tricky because the ice melts and may dilute the coffee. With Black G7, there's no problem making coffee as cold as you like, anywhere you have access to ice and water and want to enjoy a glass of gourmet iced coffee!
Current price in our store, Len's Coffee®:
for 15 sachets


G7 Instant Cappuccino
Hazelnut G7 Cappuccino
Mocha G7 Cappuccino
Flavored G7 in a larger packet size with more creamer to produce a rich, creamy, satisfying cappuccino with a layer of froth on top. This is a really special drink unlike anything we've ever tried. The packet size makes a slightly larger cup of coffee than the regular G7. The flavors are pleasant but not overpowering, with less sugar and less fat than other cappuccino mixes, so it's healthier, too.
Hazelnut Cappuccino is rich and satisfying, with a uniquely "tropical" take on traditional Hazelnut.
Mocha Cappuccino is lightly enhanced with cocoa.
G7 Instant Cappuccino is best made with 7 ounces of hot water. Pour the water in slowly, and stir the mix gently just until it dissolves. A rich head of flavorful foam will rise to the top, just like the frothed milk in a store-bought cappuccino. Enjoy!
The G7 is minimally sweetened, which is perfect for those of us who prefer a lightly sweetened drink or who are watching their sugar; however, some of us like to add extra sweetener. It's easiest to mix the sweetener in with the G7 mix while it's still dry and then add hot water normally.
If you have tried other "dessert" coffee mixes, they cannot compare to Trung Nguyen G7 Cappuccino. The base of gourmet G7, which is the world's taste- and quality-leading instant coffee, makes these drinks superior in taste from the start. The simple recipe is simply delicious and makes an excellent dessert coffee or anytime drink.
The health-conscious will be glad to know that G7 Cappuccino's nutritional profile is far superior to other leading cappucino mixes. When compared to a leading USA brand of gourmet cappuccino mix, G7 Cappuccino contains 30% less fat, 50% less sodium, 50% less sugar, and 60% fewer calories! Yet G7 Cappucino has a rich, indulgent taste, with a wonderful "crema" at the top.
For us, the G7 Cappuccino is key to creating our own coffeeshop experience, allowing us to save both time and money while enjoying a drink that we think is actually superior to most overpriced coffeeshop specialty drinks.
One sachet makes a standard 6 ounce cup; use 2 sachets for mug strength.
Contains milk.
Current price in our store, Len's Coffee®:
for 12 servings; save $.75 on 2-pack and get free samples


[X] Click anywhere to close